Link to Website – https://www.ceew.in/impacts/women-in-sustainability
"Women in Sustainability (WiS), an initiative of the Council on Energy, Environment and Water (CEEW), was launched on the World Environment Day in 2017, with support from the United Nations. The purpose was to reinforce the idea of gender diversity in the workplace, not just in numbers but also in the quality of involvement of women in key areas of research, implementation and leadership in sustainability public policy. WiS hopes to nurture and expand the conversation around affirmative action through collaborative partnerships with like-minded institutions to foster enabling work environments for women in the sustainability sector. Our approach focuses on interventions at an institutional and sectoral level, networking and constant monitoring and evaluation."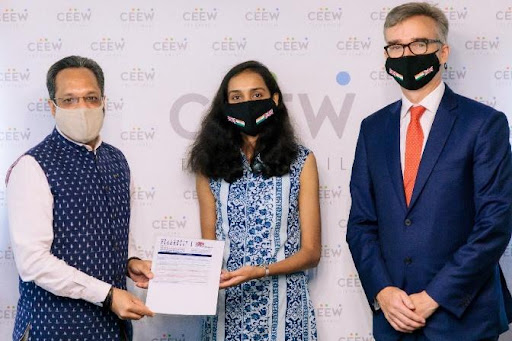 -UK-India Pledge of Progress campaign WiS has helped co-develop the UN Gender and Energy Compact in 2021, sensitised young researchers on the International Gender Day through a special social media awareness campaign and celebrated the 'International Day of the Girl Child' with the British High Commission. On this occasion, CEEW signed the UK-India Pledge of Progress campaign, a joint commitment to promote gender equality, take practical steps to tackle gender challenges and break down gender norms, and together build a gender-equal society.
-Training & Networking of Women Stakeholders in Energy In April 2022, Dean Rachel Kyte, Fletcher School hosted for a session on building one's space in sustainability and public policy. This session was a valuable opportunity for young researchers to learn from her journey that demonstrates bold leadership, inclusivity, and commitment to sustainable development.
In May 2022, WiS engaged with other regional/thematic/national networks of women in energy, in the annual meeting organised by the Global Women's Network for the Energy Transition. It also participated in the first ever 'Women Energize Women' conference, a project by the Federal Ministry for Economic Affairs and Climate Action, Germany, implemented by the Deutsche Gesellschaft für Internationale Zusammenarbeit (GIZ) GmbH and the German Renewable Energy Federation (BEE).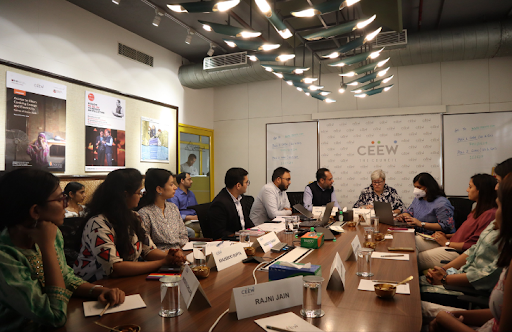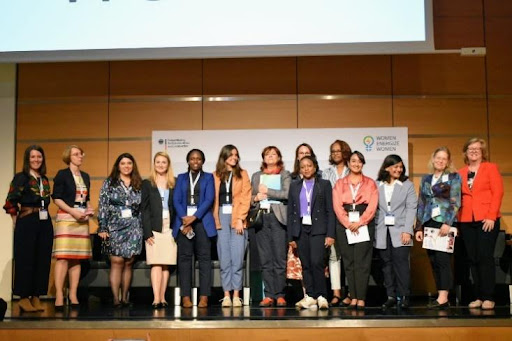 -Powering Livelihood, CEEW-Villgro Initiative "Powering Livelihoods, a CEEW-Villgro initiative, aims to boost India's rural economy by scaling up the penetration of clean energy-powered appliances for livelihoods especially amongst women. The initiative is supporting 14 enterprises to undertake large-scale the sector. Realising the role women play in the economy and the available opportunities in the DRE sector to improve their livelihood and make the space gender-inclusive, they have integrated gender-lens in each of their programme activity utilizing the following framework.
Build the fundamentals – Building internal organisation capacity to recognise women's differentiated need and respond to them of all the programme enterprise, associated ecosystem partners and internal team itself.
Act as a partner: Enterprise Support – Supporting programme enterprises to keep women as the central focal point in their business expansion working together with them to pilot some new pivotal gender forward business strategies.
Be a market accelerator – unlocking new unexplored market segments, catalysing integrated value chain for women users and collecting sex-disaggregated evidence both at the enterprise and programme level, using it to advocate new collaborations and partnerships on greater adoption of DRE livelihoods equipment amongst women."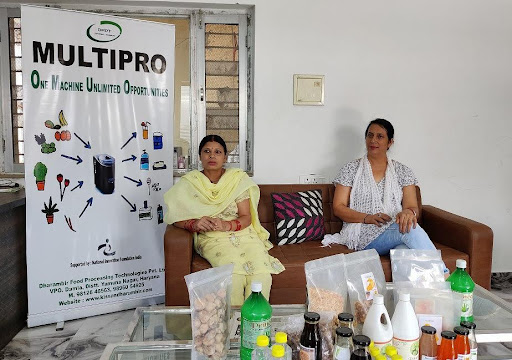 -Women Demo Champion Model End-users and demo champions of Multipro food processing machine, Neetu Tandon (left) and Narenderpal Kaur, attend a training session provided by the Powering Livelihoods team in Yamunanagar. They have pilot 'Women Demo Champion' model with a belief that successful end-users are the best vehicle for endorsing any technology. They identified successful women end-users and trained them to conduct demonstrations for other potential adopters. By tapping into their personal networks and through word of mouth, these women demo champions help inch closer to the goal — seeing more women experience livelihood benefits through clean energy technologies.
-DRE assessment Events for Women in Rajasthan They have also identified women-dominated value chains and carried out a needs assessment for DRE technologies. To reach more potential women users in these value chains, they supported their partners in various states (such as Prerna Ojas in Uttar Pradesh) and enterprises (Devidayal Solar in Rajasthan for the dairy and food processing value chains) in conducting successful hyperlocal events. Such events are attended by hundreds of women and with interest garnered, advance bookings for different technologies are made on the spot. This has resulted in successful adoption by women.
Women from Udaipur's Gogunda district attend the hyper-local event organised by DD Solar and supported by Powering Livelihoods.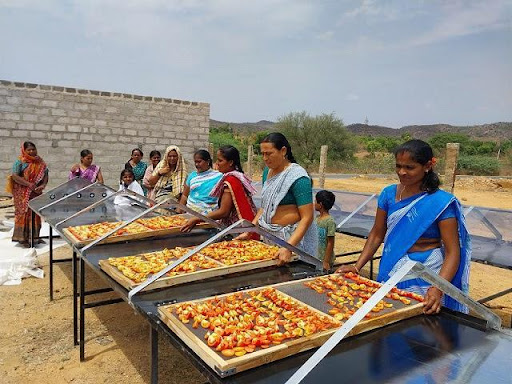 -Unlocking Finance for women-led Farmer Producer Organisations (FPOs)
The programme has also helped unlock end-user financing, a major bottleneck, especially for women. Powering Livelihoods has extended a risk guarantee to Samunnati, a financier in the agri-value chain, to extend financing to women-led Farmer Producer Organisations (FPOs). As a result, Raheja Solar Food Processing installed 36 solar dryers across six FPOs in Andhra Pradesh's YSR and Anantapur districts.