Link to website: https://sustainplus.org/
Sustain Plus Energy Foundation, is conceived and cofounded by Social Alpha, Selco Foundation and Collectives for Integrated Livelihoods Initiatives (CInI), and is a leading effort to transform the fabric of climate action in India.
With its focus on enabling gender conscious/positive/balanced solutions wherever possible, Sustain Plus has enabled over 68,000 women to become direct users or owners/entrepreneurs of DRE solutions. Notable among these, are the large-scale programs on DRE solutions for solar irrigation, e-mobility, clean cooking, waste management (biogas), livestock management, drinking water access, and solar based power backup systems for health and education – indicating some of the most critical areas of demand and 'energy gaps'.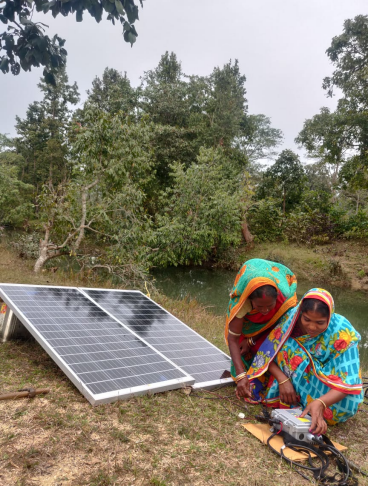 Hearing from the Fields:
District Keonjhar, Odisha
Implementation Partner: CInI
Solution: Sub-HP solar irrigation pump
Nuagaon is a tribal dominated village in the Harichandanpur block of Keonjhar district in Orissa. The women members in this village and surrounding villages have been anchoring the 'Lakhpati Kisan' program. Unlike previous years, in this year's winter, the barren lands on the banks of the rivulets in the block are covered with green patches. On a closer look, women farmers are growing chilies, bitter gourd and cauliflowers in three fourth of an acre. For these first-generation vegetable growers, the transition has happened from homemade manual sprinklers to solar enabled sub-hp pumps. This leapfrogging is also visible in the area under cultivation. "Earlier I used to plant 100 saplings, but now I am able to plant 1500 saplings of chilli" says one farmer didi. The portable sub-HP solar pumps are capable of irrigating small, fragmented land areas of ~0.70 4 of 7 acres of land. With this pump, in the last season a woman farmer generated an incremental income of INR 60,000 from the cultivation of chili. More than 200 farmers in the block have also benefitted similarly through the access and use of sub-HP solar pumps, which has been designed by Khethworks, a technology start-up.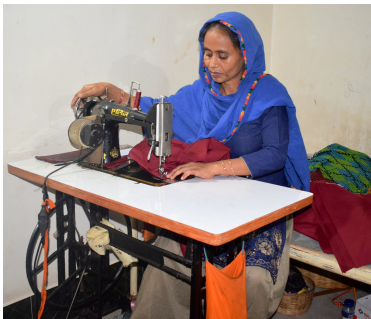 District Ramgarh, Jharkhand
Implementation Partner: CInI Selco India
Solution: Solar powered tailoring
In the garment industry in India, it is common to find small tailoring clusters in rural areas as individual or institutional set ups. These clusters work on bulk orders from garment companies and manufacturers who outsource their tailoring needs to them and serves as a critical employment avenue. Maganpur is one such village in Ramgarh district, Jharkhand. The people in this village are traditionally tailors and it is also their only source of income and livelihood. Nearly 300 families in the village are landless and completely dependent on tailoring as an occupation. They use motorised sewing machines which are powered by electricity from the grid. However, electricity supply is predictably poor and erratic, and due to frequent interruptions, the tailors are not able to complete their orders in time, which are for markets in Kolkata and Cuttack.
Shahanaz Khatoon, a seasoned tailor in Maganpur, was one of the users of the hybrid machine, and was able to earn an additional income of Rs. 12,000 due to the increased productivity and reliability of power supply. Based on the promising success of the 50 units installed in the first phase, another 100 units are planned for implementation.