Link to website: https://dharmalife.in/
Livelihood based Solar Dryer intervention
Rural Livelihoods in Uttarakhand are primarily subsistence oriented and largely dependent on agriculture, livestock and forest linkages. Drying agricultural produce is an important step in upscaling produce and offers a simple and sustainable process for creation of new product lines for the farmers. Solar Dryers, which take much less time (2-3 days) for drying one batch and produce uniform drying is therefore a viable alternative.
Gajam India Private Limited (GIPL) partnered with Badri Kedar Swayatt Sahkarita, Chamoli (BKSRC) for upscaling their produce through drying. Farmer Producer Organisations (FPOs) and Farmer Co-operatives have emerged as aggregation points for small farmers through which they can avail economies of scale and better bargaining power. It also provides for ownership control and profit sharing with its members i.e. small farmers. BKSRC's main activities are food processing, farming and cultivation, and marketing of agri products.
The cooperative has approximately 200 farmers, most of whom are women.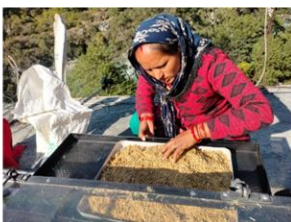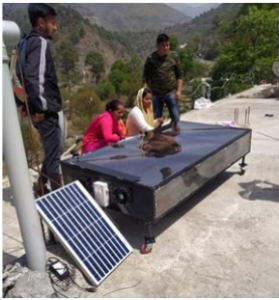 Crops such as kutki, rosemary, lemongrass, kapoor kachri, turmeric, parsley and jatamasi have been dried by the Co-operative in the solar dryer. The dryer has generated very good results as dried products are uniformly dried and do not lose their colour or fragrance. The most profitable dried crop is rosemary, followed by lemongrass. While the fresh produce of these products has a very low market value, the dried product fetches up to 12 times its market value. Since buyers are very particular of the dried product quality, the solar dryer proved very useful.
Rural entrepreneurship in Renewable Energy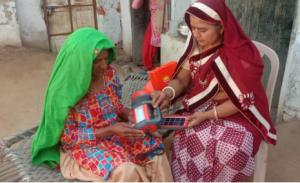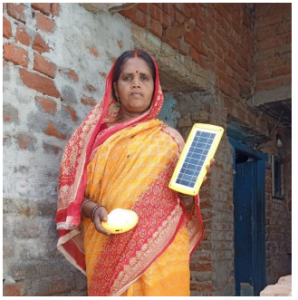 In the highly conservative ghunghat culture of Rajasthan, Suman Beriwal shines as a beacon of progressiveness in her village. She was excited to join the IGEN Access II project as her village gets an average of 10 – 12 hours of electricity every day with frequent and long power cuts. She would now be able to help poor family's tide over their lighting requirements during long power cuts. During the training she learnt about many other useful solar products like fan, fridge, streetlight, irrigation.
Suman Didi has promoted solar lights to ~50 households. People want to use the solar lights at home during cooking and studying, in their shops and also when they go out to their fields for irrigation early in the morning, Their current solutions – battery powered torch and kerosene lamps are unable to provide them strong light over long distances.
Karuna Devi is a Dharma Life entrepreneur from Gaya, Bihar. She has four children, and her husband owns a small carpentry shop in the village. Karuna Devi adopted and personally uses all solar products that she promotes. This way, she herself first develops trust on the product and promotes it once she is confident of its benefits. She visited 20 – 30 households and sold solar lights to around 8 households. The credit period of 14 days which she could extend to the villagers was a big help as most villagers paid an initial amount to book the product. Once they had used the product for some time, they paid the remaining amount with more confidence in the product. She is now a firm believer in renewable energy products and believes that given the irregular electricity supply, solar products are gold for any village.